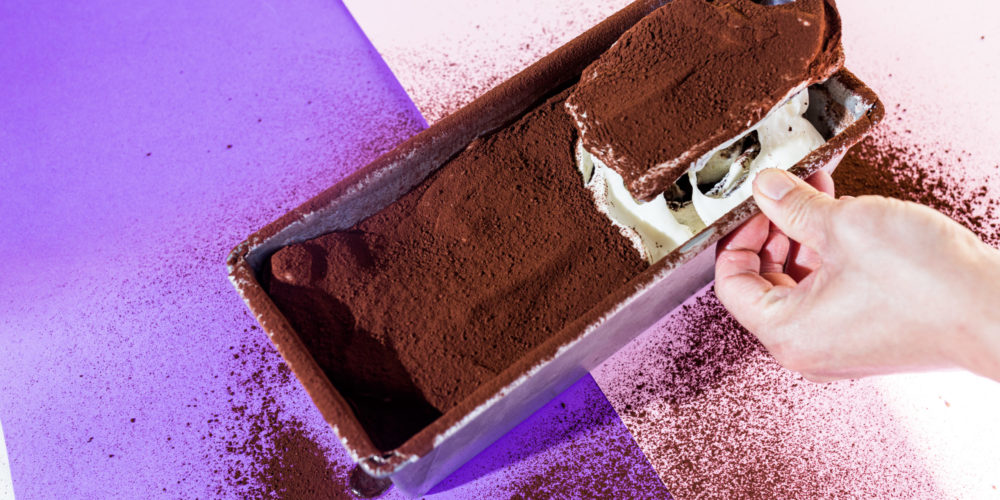 We see your regular old vanilla slice and raise you an Il Gelato Vanilla Slice.
This ain't your Grandad's vanilla slice; this one has brownies, chocolate and gelato!
Ingredients
A tub of Madagascan Vanilla Bean Gelato
A slab of pre-prepared brownie
Instant set chocolate
Cocoa (for dusting)
Preparation Time
This recipe will take roughly 5 minutes and requires you to work at pace to avoid our precious gelato melting.
Method
Get a bread tray or similar sized tray and pop it in the freezer so that it is pre-chilled before doing anything else.
Once the tray is sufficiently cooled take it out and cut the brownie slab to fit the tin snugly (do this before you get the gelato out of the freezer)*
Grab the tub of gelato and working quickly scoop out enough to cover the brownie, and spread flat with a spatula.
Pour a thin layer of instant set chocolate sauce and leave to set.
Scoop another layer of gelato onto the now set chocolate.
Pour another thin layer of chocolate and leave to set.
Scoop a third and final layer of gelato onto the now set chocolate.
Dust your creation with cocoa like it is fresh snow falling gently onto the peak of a mighty mountain in a far off land.
Enjoy!
*Handy Tip – You can eat the vanilla slice straight out of the tray (like we did lol) or you can serve it on a fancy plate. To do this simply line the tray with lightly oiled backing paper so that it can be inverted or removed once complete.
Remember to share your creation with us @ilgelato_ and use the hashtag #weloveilgelato
Recipe courtesy of Lisa, Gelato HQ