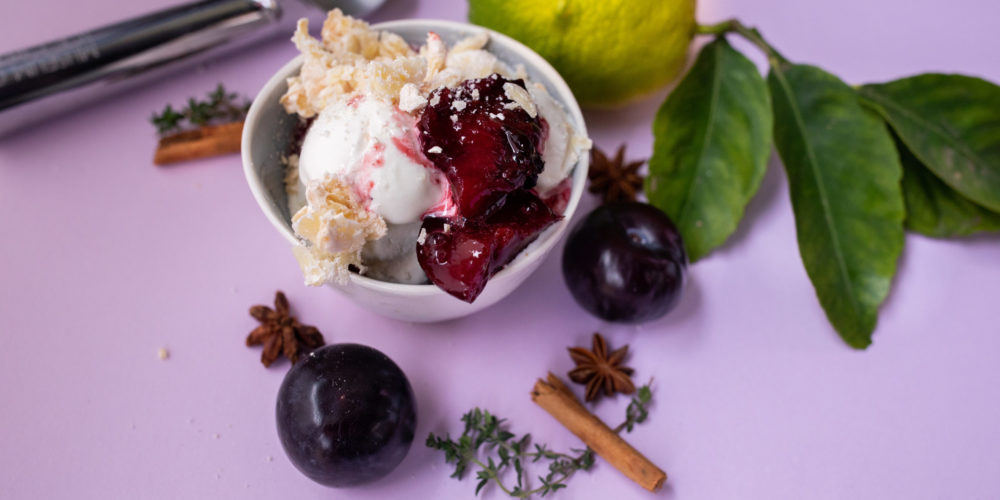 Ingredients
12 ripe plums
Peel from half a lemon
Star anise (optional)
Cinnamon quill
Few sprigs of lemon thyme (optional)
3-4 tbsp sugar (brown or demerara preferably, but any will do)
50 ml water or your favourite liquer.
As much of our delicious Madagascan Vanilla Bean Gelato as your heart desires
Preparation Time
This recipe will take around 20 minutes.
Method
Cut plums in half, remove the stone.
Pop plums into a small saucepan, add the spices and sugar, stir to combine.
You may choose to add 50ml of water, or something stronger for more zest, like a fruit liquer or port of your choice.
Carefully bring the fruit to a bubble over medium heat, then reduce heat to low and simmer for 8-10 minutes until the plums are soft and the liquid is syrupy.
Drag your spoon across the bottom of the pot. If the compote separates for a moment, long enough to make a line, you know it's ready.
Allow yourself and the plum compote to cool, pop in the refrigerator until you're ready to serve.
Serve over a scoop (or two) of our Madagascan Vanilla Bean Gelato
Enjoy!
Remember to share your creation with us @ilgelato_ and use the hashtag #weloveilgelato
Recipe Courtesy of Lisa, Gelato HQ